Chinese Consumer Generation Series: Silver Generation
Silver Generation (银发经济)


According to China's seventh census, the population of silver-haired persons aged 60 and older amounted to 18.7% of the total population of 264 million people. Chinese retirees are among the world's youngest, with an average age of 60 for men and 55 for women. These customers may spend more time and money on leisure activities, tourism, and artwork, as well as fashion and beauty because their lives are less hectic. According to iiMedia Research, the size of China's silver hair economy market has continued to grow from 2016 to 2020. With an annual growth rate of 25.6 percent, it reached 5.4 trillion yuan in 2020. China's silver hair economy is predicted to increase further in 2021, reaching 5.9 trillion yuan. Food, daily essentials, and health care, medical treatment, and physical examination are the current key consumer products for the elderly in China. Clothing, shoes, and apparel, food and health care, and daily essentials are the three most represented consumer categories. The average consumption of daily essentials is the lowest among them. Seventy-three percent of consumers spend less than 40% of their monthly total expenditure on daily needs.
The silver generation pays comparatively little attention to the product's look. Consumers in small towns (tier 4 and below) are virtually entirely concerned with the reputation and pricing of the goods. Users in high-tier cities have more product categories to pick from, therefore they pay greater attention to the quality of what they buy. Silver-haired persons in second-tier and higher cities have more time and money and are more open to new experiences, accounting for more than 60% of the total.
Gen Silver relationship with KOL
More and more older people are devoting themselves to the short video wave, making a large impression in the Online short video business and growing a generation of "silver-haired internet celebrities," whether it's dressing up like fashion trenders or sharing amusing things in life. According to several studies, 58.6% of the elderly watch short videos, and 72 percent of the elderly will continue to watch the shows daily. In addition, the number of middle-aged and elderly persons following stars is growing, and their financial resources and ability to pay greatly outnumber those of younger people.
· In Sichuan, a 70-year-old grandmother became obsessed with an emotional anchor on Douyin, and watched the anchor live on time every day, singing and chatting;
· In Shanghai, an 80-year-old grandmother bought a plane ticket overnight to fly from Shanghai to Beijing alone to chase her stars; She topped up her account with approximately 10,000 RMB in less than a month to give as rewards.
Gen Silver and Social Media
According to research published in April by the China Academy of Information and Communications Technology, one-third of Chinese seniors over 60 use WeChat for more than 80% of their data traffic, placing them first among all age categories. According to research, social media usage scenarios span many parts of life, including social communications, life services, health care, entertainment information, and online buying. The average daily online time of netizens across the country is 3.74 hours, according to CNNIC survey data. According to the poll results, 51% of middle-aged and older persons spend more than 4 hours every day on the Internet. The usage of APPs by those aged 60 and up is evenly spread, with nearly equal amounts of time spent in the morning, afternoon, and evening.
According to research, Meituan, in addition to WeChat, is a generally good mainstream app for middle-aged and senior people.
Apps that can fulfill fundamental living functions, such as ordering food, tickets, booking hotels, and purchasing medicines for delivery, are more popular among the silver generation. Silver-haired folks choose three types of apps in general: travel, short video, and retouching APP.
Gen Silver and Beauty
Consumer products related to "beauty" and "fashion" are becoming a booming consumer hot spot among the silver-haired group, according to all major e-commerce reports; the 2018 Alibaba "Silver-haired People Consumption Upgrade Data" report shows that silver-haired women developed the habit of buying cosmetics on e-commerce. According to JD.com's big data, the purchase of beauty and makeup by users over the age of 50 climbed by 51% year over year from January 23 to March 20, 2020. For the past two years, the silver-haired group's spending on sheet masks has climbed by more than 20%. They are prepared to spend more for premium brands for better product quality and reputation due to their skin aging worry and lack of cosmetic understanding (more than 80% of silver hair opt to buy well-known foreign makeup brands like Shiseido, Estee Lauder, Lancome, etc.). Buying from a big brand means buying "safety and security" for the silver-haired bunch lacking relevant information. The silver hair generation prefers multifunctional items, instruction, and interactive experiences, among other things. Functional skincare products, such as anti-aging and wrinkle removal, as well as beauty makeup, are in high demand. Brands need to grasp the psychological needs of the silver-haired group to pursue "simple beauty" and launch multifunctional makeup. To create and expand a brand, it's critical to provide consistent and reliable customer service and experience for the silver-haired demographic.
Gen Silver and Fashion
The offline market is separated into two levels: silver-haired clothing brands with relatively good grades and prices (such as Clatier, Langzi, Jiuzi, etc.) in first- and second-tier cities, and brands with old styles and mixed prices in third- and fourth-tier cities. The ranking of e-commerce silver-haired clothing firms has shifted online, and clothing brands that began on social media platforms like WeChat, Douyin, and Kuaishou are progressively expanding.
Footwear brand 足力健(Foot Life ) brand designed for the elderly is a good example of a fashion brand for the silver generation. It was established in 2014 and took only 6 years to have annual revenue of 3–4 billion RMB. Foot Life's popularity is because there was previously no well-known company specializing in shoes for the elderly.
Gen Silver and pets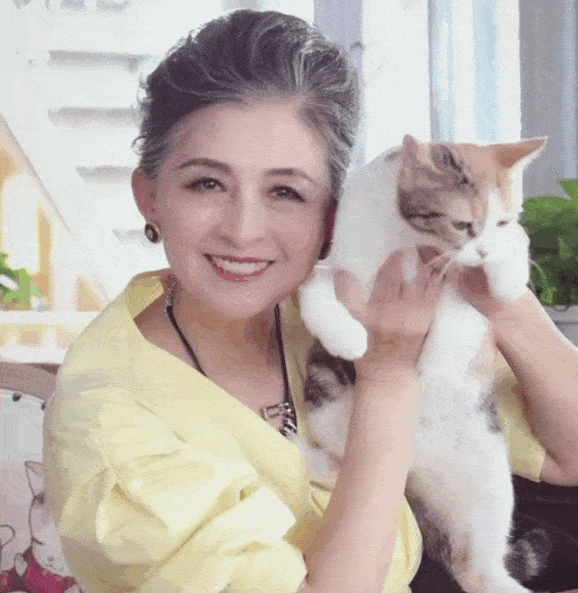 Pets provide company to middle-aged and elderly persons, similar to the demands of pets in the "single economy," and help to alleviate the loneliness of elderly life.
Pet consumption in third-tier and lower cities has increased more than in first- and second-tier cities in the previous year, according to data from Tmall Supermarket in July 2020. Pet consumption by the elderly in third-tier and lower cities has increased by as much as 450 percent year on year.
According to conservative estimates, the market for pet items for persons aged 50 and more is expected to reach 66.8 billion yuan in 2023. Pet education for the elderly is primarily accomplished through two methods:
· Peer-to-peer education is important. In social events involving pets, middle-aged and elderly persons frequently share their pet-raising experiences. Brands of pet food and feeding practices, as well as service quality, are all topics that come up frequently in social interactions. The information offered by the opposite party is more readily accepted by middle-aged and older people.
· Children's and grandchildren's feedback Young people are more inclined to accept the concept of scientific pet food, as well as newly produced pet food and products, than middle-aged and elderly people, and they have a better awareness of the e-commerce online buying process and the reputation of pet companies. Young people will feed the latest information on pet rearing and eating to the seniors as they participate in the pet raising process of elderly people.
Gen Silver and e-commerce
The Chinese silver generation appreciates online purchasing and is one of the most avid watchers of live e-commerce. According to multiple studies, online shopping has become a new pleasure for China's older generation (92 percent of them prefer to shop online). Customers over the age of 60 were more active on Taobao than any other age group, according to research issued last year by Alibaba Group Holding. Furthermore, their spending on the site has climbed by around 21% over the previous three years, second only to Generation Z's. Over 20% of silver-haired persons use educational applications, and senior education content is diverse, primarily to satisfy hobbies and enhance abilities. Elderly consumers want a welcoming design interface and a reward model that they can share with friends and earn a commission. E-commerce apps must recognize their demands and habits. Recently, 格力(GREE) took the lead in launching an air conditioner specifically developed for the silver-haired group, focusing on the pain concerns of those who are temperature sensitive and concerned about air-conditioning disease and vision loss and difficulties using the air conditioner.
Gen Silver and Food & Beverage
For the silver generation, packaged food and fresh food are major areas for internet purchasing. By 2022, Online + O2O is forecast to quadruple its market share in the fresh food category, with a projected 15% market share.
"The most important criterion of the elderly for food goods is safety," says Cui Jingxue, director of the China Aging Industry Association and deputy director of the Senior Products Professional Committee. "Products must first be of trustworthy quality to safeguard the old from any harms."
The new generation of old people has five key dietary requirements: sustain life (it doesn't matter if the food taste is delicious as long as it is healthy and beneficial to the silver generation's health), maintain health, anti-aging, disease prevention, and encourage recovery. According to the Jingdong Big Data Research Institute's online sleep consumption report released in March 2020, nearly 60% of middle-aged and elderly people over the age of 50 suffer from sleep problems; in recent years, many food giants have recognized the enormous market opportunities of sleep aid foods.
(Note: Article 38 of the "Regulations for the Implementation of the Food Safety Law of the People's Republic of China" clearly stipulates that foods other than health foods shall not be claimed to have health benefits).
Do you want to raise your game in China and Asia? Contact us!
Join our WeChat group to receive tips, share opinions, ask for marketing suggestions! Scan the QR code, add Social Cloud customer service and send a message "I want to join the group". (Note: This group is for English language speakers).
If you don't have WeChat you can click the link and join our Wix Space Group
Sources: iiMedia Research, CNNIC, TopKlout, CBN Data, AgeClub, Mob Research Institute, SCMP, jingdaily